William J. Smith

Survived the Chosin Reservoir, North Korea
31st Reg, I Company
Army History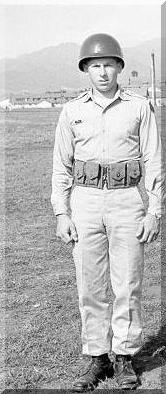 ---
In Army from 1948 - 1951
3 different times in Korea coming from Japan:
1. With the 32nd Regiment - Seoul Korea
2. The Korean War, with 31st Regiment at Inchon
3. Returned to I Co 31st after being hospitalized from Chosin Reservoir Stationed:
in Korea, 1948 with the 32nd Regiment
at Camp Crawford, Sapporo, Hokkaido, Japan with the 31st Regiment, I Co 1949 - 1951
Fought in 3 major campaigns and 2 spearheads.
For the Korean War, William arrived at Inchon with the 31st Regiment on September 17th, 1950. Then onto Seoul-Suwon and Osan(Linked up with the 1st Calvary Division). Then another beachhead landing on October 29th, 1950 at Iwon, then onto Hungham - Hagaru-Ri - Chosin.
At the battle of Chosin, the Graves Registration( tag collector) was KIA-MIA. This meant that a true account of I Co men KIA-MIA would not be exact. At Chosin, William and all the men who survived, saw the wounded men of the Regiment being shot or burned in the trucks by the Chinese. William was evacuated from Hagaru-Ri after walking 6 miles out of Chosin Reservoir area, hospitalized in Japan 1-2 months. Then went back to I Co in Korea, where there were all new servicemen. Left the front line April 1951, first to leave on a rotation plan.
2 Spearheads:
1.Inchon - Osan
2. Iwon - Hungham - Hagaru
Basic-Fort Dixs
Regiments-32nd and 31st
Generals:
General William Dean
Major General David Goodwin Barr
Captain of I Co-"Pops" Cpt Marr
William was chosen as General's orderly dozens of times
William was one of the 3 best soldiers in the 31st - August 1949
William was Co Runner at Regimental Headquarters in Reservoir
One of his last orders before Chosin, William rode shotgun with Lt Col Reilly to Chosin, that night the Chinese attacked.
Medals-(William finally received his medals In August of 2000, but no mention of the purple heart, bronze and silver stars which he has earned. William was listed as MIA until in the 60's when he checked for Veteran's benefits.) Medals he will receive:
*Good Conduct Medal
*Army Of Occupation medal with Japan clasp
*National Defense Service Medal
*Korean Service Medal with 3 bronze Service Stars
*Combat Infantry Badge
*United Nations Service Medal
*Army Presidential Unit Citation with 2 leaves
*Republic of Korea Presidential Unit Citation
Medals not on William's DD214
*Purple Heart -"Shell fragment left leg, frost bitten feet and hands Nov 50 Korea" On his 214.
*Silver star with cluster-ON 9/20/50, 2 soldiers took bunkhead with 6 North Koreans and 1 Chinese Officer. 3 North Koreans and the Chinese Officer were taken prisoner. A Lieutentant said he would write him up for the star.
*Bronze Star-William and Billy Balou? were told to destroy trucks in Reservoir to stop advancement of Chinese. A Captain that had a slug in the middle of his helmet gave William the grenades. This Captain told William he had earned the Bronze Star.
*Bronze Star with cluster-On the second night of the battle at Chosin, 4 soldiers (one named RED on a roadblock, stopped advancement of Chinese over bridge in Chosin 1/2 mile away from Co. Two of the soldiers were killed in action.
William's I Co Army Buddies:
Charles Mutter(One of William's best friends)
Tom J. Morris (One of William's best friends) - POW, 12/2/1950, died in POW camp,
Baker from VA
Bernard A. Colie
William Major
William Minshall
Carl Pippin
Joseph Smith
James Anderson
Penstadler
2nd LT Webb
Sgt Summers
Herbert Ward (K Co)
Furtiss
Valleria(trans to 2nd Div)
Posy McCormick
Cpl Service -KIA Chosin
Richard Takahashi- MIA 12/3/1950
Paul Tremblay-KIA 12/1/1950
Alford Smith
Sung Chow-ROK
Billy Balou
Billy Parker
Collins
His I Co 31st brothers we have contacted:
James Brown
George Fukumae
Floyd Scalph
Ed Reese (K Co)
Don ALiff-passed away 4/18/2000
Mac McDonaldson
Leroy Creel
L. Shannon
Cecile Dozier
VISIT A REAL COOL SITE ON CHOSIN AND WILLIAM HAS HIS OWN PAGE!
Smith, William page
Back in the states - William also participated in the Memorial Day ceremony, at the cemetary in Versailles PA. May 1951. I have a picture, but it's kinda blurry!

---
Coming Home Stories
After walking to Hagaru-Ri from Chosin, William was evacuated by air to Yokohama Japan, where he was hospitalized 1 1/2 to 2 months for frostbite and wounds. He then went back to Korea I Co.
Little did William know, back home in the states, his Mother received a letter from the Army. A letter that any Mother would not want to recieve. Her son, William Smith was Missing In Action - Presumed Dead.
Mrs. Smith refused to believe that William was dead. She would tell her family and neighbors, "You'll see William again, and the moon will be full!"
The date was October 9th, 1951, around 7:00 P.M., William came walking up to the family house. His Mother sitting on the porch, and Yes, the Moon was Full!
Now, Dad never forgets my birthday, Yes, October 9th!
AND YET ANOTHER STORY......
Once William was home and out of the service, William was at a neighbor's house across the street from the Smith house with his friends. The postman came over to the boys as they were sitting down. The postman said, "Boy, I really don't want to deliver this package. It's for Mrs. Smith, from the Army, this is not good news. Her son is MIA, it's probably his items from his locker that they are sending her."
William said, "Oh, that's me!"